Millennial market madness: How buyers in this generation are shaking up local housing trends
April 6, 2021
Charlotte Business Journal, Laura Williams-Tracy
Millennials famously put off buying homes longer than previous generations and are now getting a rude welcome to the real estate market. Trading that trendy urban rental for a first home is bringing new buyers face to face with high prices and fierce competition.
Buyers between the ages of 25 and 40 are now the fastest-growing segment of homebuyers. According to the National Association of Realtors, millennials now make up 38% of the home-buying population.
Sarah Airing and her fiancé, Garrett Ford, began looking at homes in October ahead of their May wedding. They encountered canceled home tours as sellers entertained multiple offers. Airing and Ford made offers on two houses only to lose out to higher bids.
On the third try, they landed a three-bedroom house with a renovated kitchen in east Charlotte.
"The third time, we were more aggressive," Airing says. "We really loved this house we ended up with. We are saving money, and we have an investment now."
In 2018, millennial homeownership was at a record low. The generation has waited longer than previous generations to set up households after graduating from college in the last recession and carrying $1.5 trillion in student debt.
Three years later, millennials still face financial challenges, but other factors weigh on their purchase decisions and are pushing them into the market, says Faith Triggs, an agent with Keller Williams SouthPark.
Covid-19 sent many home to work, creating the necessity for more space or the desire for less communal living. Young couples can trade two rents for one mortgage. In many cases, friends are becoming roommates with one paying rent to help make the mortgage.
Triggs says buyers are motivated by low interest rates and because they are already paying high rent.
"If you are paying $1,500 in rent for a small two-bedroom, and you can get a mortgage for $1,000 — you do the math. Why wouldn't you do it?"
Other first-time buyers are relocating from larger markets, says Nick Hill, a Realtor with Allen Tate's SouthPark office.
"I have had several clients and friends find out that their jobs are forever remote so they figure, why should I pay $4,000 in rent in New York City when I could have a three- or four-bedroom house here with a mortgage payment that's half that," Hill says.
Those with lower budgets are finding only fixer-uppers for less than $300,000. The average price point is $345,000.
"I have to help some understand that this is your first house, not your forever house," Triggs says. "Let's get you in your first house with 85% of what you want and then you leverage that to move up. We have to manage expectations so they see the long game."
Hill says about a quarter of his millennial clients are not willing to compromise on location or reseidental construction amenities to get a new home and are choosing townhouses to stay closer to town.
About 70% of sales by Brookline Homes are to millennials, a growing percentage in the past year, says Andi Dirkschneider, Brookline Homes vice president.
Brookline has targeted Gaston County for construction as a way to keep its homes priced under $350,000. Dirkschneider says the builder has found affordable land there, and the commute into center city is shorter than from parts of Ballantyne.
Brookline is building in Belmont, Mount Holly and Cramerton and soon will begin in Gastonia with a 108-townhouse project called Beatty Woods. Homes will be priced in the low to mid-$200,000s. Brookline opened a model home in July and has already sold the first 70 homes. Other Brookline projects are in Huntersville and Concord.
About 85% of Brookline Homes are townhouses, though it has two projects coming up with single-family homes.
Dirkschneider, herself a millennial, says her conversations with her friend group helped Brookline determine what millennials want in their first homes.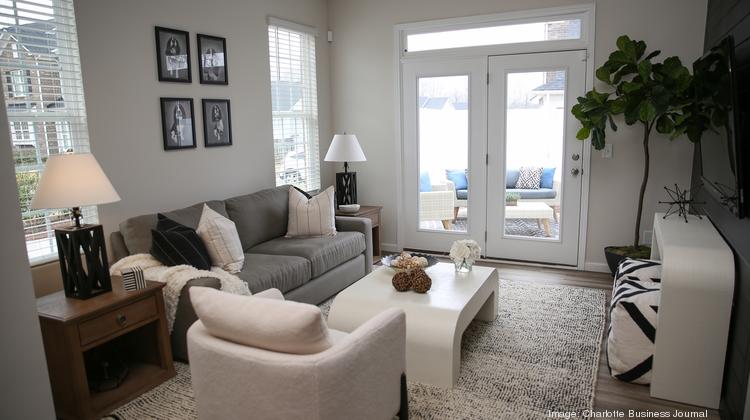 "We heard they were not finding what they wanted where they wanted to live," Dirkschneider says. Luxury modern apartments set a high bar for amenities in new houses, Dirkschneider says, and Brookline aims to keep some of those amenities, such as dog parks, ample USB ports and smart locks that do not require a key in the door.
Dirkschneider says millennial buyers would quickly turn up their nose to laminate floors and carpet in the living room, so all Brookline homes have hardwood floors or engineered vinyl plank flooring.
Those features are part of the base package price, so buyers do not have to wonder how much the upgrades they want will cost.
"Buying a house is scary and a mortgage is intimidating," Dirkschneider says. "We include features in the base price so there's no sticker shock. The younger generation is so used to being able to price check anything."
Bart Hopper, founder of Hopper Communities, develops townhouses at in-town locations such as lower South End, Wesley Heights and FreeMoreWest. Hopper says his buyers are generally younger people, singles or couples without children who want to stop renting but do not want to leave Charlotte's amenities.
"We are selling primarily to millennials. They want to be near all the action, the restaurants, the shopping, the workouts," Hopper says. "Millennials who have kids are going out to the suburbs, going further to get more house."
Hopper Communities townhouses are priced from the high $300,000s up to the mid-$600,000s. A popular seller among younger buyers are four-level townhouses that include a rooftop terrace at its Bryant Park Terraces development. Every community includes a dog park to satisfy millennial pet owners.
Hopper says he believes the Covid-19 pandemic pushed millennials to want to leave apartment living with shared elevators and common spaces and move to their own home with their own HVAC system.
"It makes them feel safe," Hopper says. "We see a lot of single young women buying and getting out of apartments."
Hopper says low interest rates and strong demand means he presells units well before construction begins. Bryant Park Terraces on West Morehead Street just went vertical, and 13 of the 52 units have sold.
The same demand exists for single-family homes. Hopper Communities recently rezoned and engineered 300 residential lots in Mooresville for major production builders.
"If you can get land under contract, rezoned and engineered and ready to go for the site work, there's a feeding frenzy of builders interested," Hopper says.
This article was originally posted in Charlotte Business Journal